---
GUADALUPE WALKATHON
WE RAISED OVER 66K in direct donations to the Walkathon!
We will certainly reach our 70K goal, thanks to parents company matching submissions. There is still time to submit your donation for company matching; most companies, and a New Year's Day deadline. You can find direct links to your company matching program on GHSC.NET/MATCHING.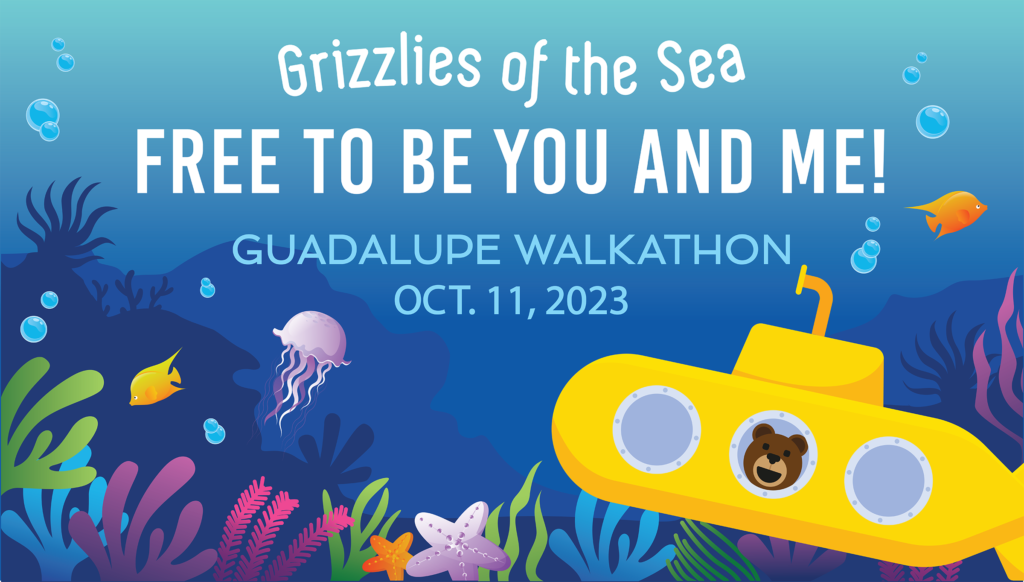 WHAT IS THE WALKATHON DRIVE?
GUADALUPE'S BIGGEST FUNDRAISER OF THE YEAR provides for all of our school-wide supplemental curriculum and programs.
Our goal of $70K will fully fund and provide continued access to beloved programs & curriculum like Music, Dance, Theater, Art, and Ceramics to name a few.
**This is separate from our recent Classroom Giving Drive that directly benefits your teacher/classroom/grade level needs.
Our target is a BIG number, but with your support, our Grizzlies can achieve anything! Together, we are walking for a great cause!
---
AT A GLANCE. . .
Theme: Grizzlies of the sea- Free to be you and me! (Under the Sea)
Purpose: GHSC's Main Fundraiser Drive & School-Wide Celebration Event
Fundraising Drive Window: Friday September 22 – Friday October 13
Walkathon School-Wide Event: Wednesday 10/11/23
ALL DAY EXTRAVAGANZA of walking, play, treats, and more! 🎉

8:45am- Morning assembly on the upper field, all grade levels
8:45-10am Assembly & Walking
10:45- lunch/recess Additional walking/activities

Families are encouraged to volunteer, cheer, and walk with our Grizzlies!

(**Please see requirements for visitors vs. volunteers)

Where: Guadalupe Upper Field
Goal: $70,000 raised school-wide
Goal Per Student: $125 raised to fully fund our supplemental curriculum and programs
Donation Collection Format: GHSC Online Toolkit- Individual Student Donation Pages https://ghsc.membershiptoolkit.com
---
HOW DOES IT WORK?
We are encouraging each student to set a fundraising goal of $125. If every student is able to meet the challenge, we will have far surpassed our goal for the Walkathon this year!
Students will ask people to "sponsor" them ahead of the event. Sponsorship is a single donation and not based on laps or minutes walked. "Sponsors" are lovely folks who pledge money for your participation as a walker in the Grizzly Walkathon.
They may be friends, family, neighbors, and parents' co-workers or business associates. Please do not go door-to-door unless you have an adult with you.
Check with Employers for Employee Matching. (Please note donations made through your company will take 5-10 business days to update your student donation site. Company Matching amounts are not counted towards your students fundraising goal.)
100% of the donations will benefit Guadalupe students and because Guadalupe Home and School Club (GHSC) is a non-profit, all donations are tax deductible for your sponsors. Your donation confirmation email can be submitted to the IRS for tax purposes.
---
REMINDERS FOR DAY-OF WALKATHON EVENT:
Each student will receive a Grizzly Walkathon t-shirt to wear during our celebration! Shirts will be handed out that morning and worn over clothing.
Have your child wear comfortable walking shoes.
Send a labeled water bottle with their name.
Everyone is welcome!
WANT TO VOLUNTEER or VISIT?
Volunteers: Adult family members are welcome onto campus to help mark student lap stickers & support our SAND-sational Station Activities

Sign up on our Sign Up Genius for a volunteer spot (coming soon!).
Make sure you complete the first 2 steps below prior to Walkathon Day:

Complete USD's Online Volunteer Code of Conduct Form ahead of time (this is a yearly form you must fill out).
PRIOR to Walkathon Day, scan your Driver's License in the school office Raptor System
Completed the 2 step above? On Walkathon Day sign in on the Volunteer Sheet and wear your pre-printed Volunteer Sticker.
When your volunteer session is completed, scan your license again and sign out on the Volunteer Sheet.

Visitors/Spectators: Family/Friends who simply want to cheer on your child can watch near the upper track!

Complete USD's Online Volunteer Code of Conduct Form ahead of time (this is a yearly form that all visitors must fill out if coming onto campus). Save your confirmation email!
Upon showing verification of your completed form, you will receive a visitor sticker to wear visibly.
We ask that visitors remain only on the upper field during the event (8:30-10:00am)
---
AWARDS & INCENTIVES
COMPANY MATCHING NOTE: These generous programs are integral to our fundraising drive but unfortunately cannot count towards your student's awards/incentives due to equity, company processing timelines, and varying company matching "direct benefit" parameters.
Classroom & Individual Prizes
Grizzlies of the Sea- Free to Be You and Me T-Shirts
Each student will receive a commemorative Grizzly Walkathon shirt to wear on the morning of the event and beyond!
Allergy-Friendly Cold Treat on Walkathon Day
Each class will enjoy a yummy treat to celebrate their fundraising efforts and our Grizzly Pride!
Pizza Party SHELL-abration with Mrs. Barocio!
Every student who raises a minimum of $175 will enjoy a pizza party with our amazing principal! (date tbd)
TOP Fundraiser Prizes
Top Grade Levels Winners-

Each top fundraiser from TK/ K, 1st, & 2nd will win an awesome Pedal Go Cart!
Each top fundraiser from 3rd, 4th, & 5th will win a rad Hoverboard!

The Top Overall fundraiser will receive 4 season passes to Great America!!
TIERED Fundraiser Drawings
Each student who raises a minimum of $100 will receive at least 1 entry into our prize drawings!
| Minimum $ Raised | Entries into Prize Drawing |
| --- | --- |
| $125 | 1 |
| $150 | 2 |
| $200 | 3 |
| $250 | 4 |
| $300 | 5 |
Our SAND-sational Prizes… (There will be 17 prize winners!!)
$25 Gift Cards to Target Juice (2) & YoPop (2)
$50 Gift Cards to Golf Land (2) & Lazy Dog (2)
Instax Mini 11 Camera bundle (2)
Ocean-themed Squishmallows (4)
Ultra HD Under Water Camera with microphone (1)
National Geographic Ocean Animal Dig Kit (1)
STEAM Science Lab Experiment Kit (1)
---
QUESTIONS??
Please contact Becky Fan and Chantel Anderson at [email protected]
(PLEASE DO NOT CONTACT THE FRONT OFFICE)
You can set up your fundraising page at http://ghsc.membershiptoolkit.com
We believe every student, faculty member, and family member is part of this awesome community! GHSC and our school thanks you for your continued generosity and support!