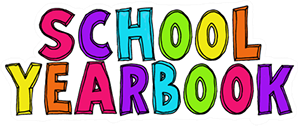 Yearbook Pre-Order:
Pre-order your yearbook today! Personalization is free through November 8th!
To acess the pre-order page:
Go to www.betteryearbook.com
Click on the "ORDER YEARBOOK" menu at the top
Choose your city and the school from the dropdown list and follow the instructions on the page
Choose San Jose, CA and Guadalupe from the dropdown list and follow the instructions on the page
Password for your school is – grizzly
Please use the free personalization coupon code "1108" during checkout if you qualify for the free option by placing your order before November 8th.
---
Yearbook Cover Contest
Calling all students! Bring your creativity to the 2017-2018 Yearbook cover. Submit your idea for the yearbook cover, and have the chance to be on the front cover of the yearbook!
Each class will pick a winner for their classroom, and all students will be able to vote for their favorite entry. The winning artwork will be featured on the yearbook cover, and the winner will receive a t-shirt with their artwork on it.
For this year's theme, we ask that you: "Design a cover that shows what you imagine you will be doing our exciting new STEAM Building. What sorts of engineering projects do you think you will make in there? Structures? Robots? What tools will you be using? Close your eyes and imagine."
Please read the cover contest guidelines for complete details. We ask that you submit artwork to your teacher by Friday, December 1st. 
If you have any questions or you are interested in volunteer opportunities please feel free to contact your Yearbook Chair, Kristy Monteen (kristymonteen@yahoo.com).
SaveSave
SaveSave
SaveSave