---
GUADALUPE WALKATHON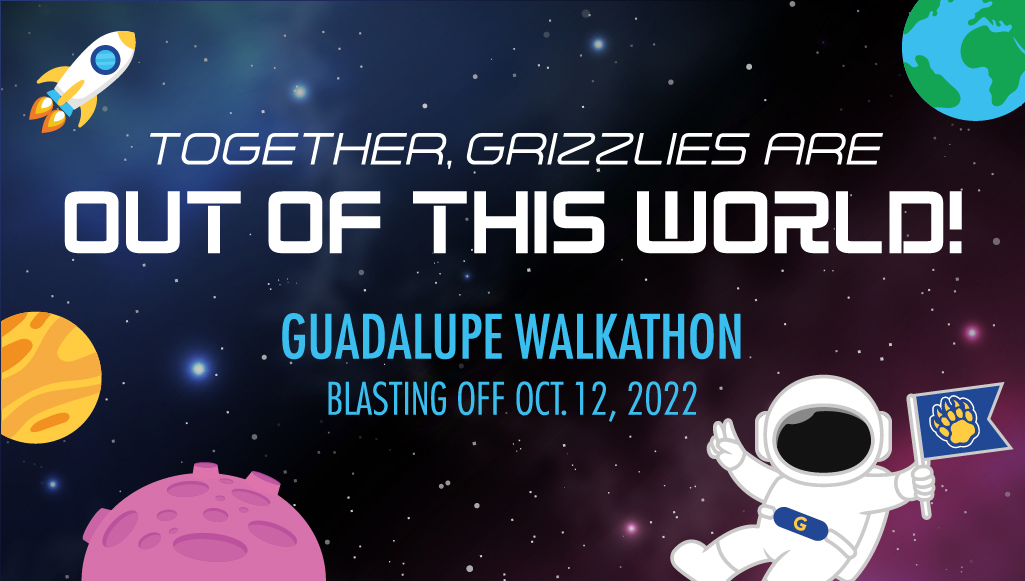 WHAT IS THE WALKATHON DRIVE?
GUADALUPE'S BIGGEST FUNDRAISER OF THE YEAR provides for all of our school-wide supplemental curriculum and programs.
Our goal of $65K will fully fund and provide continued access to beloved programs & curriculum like Music, Dance, Theater, Art, and Ceramics to name a few.
**This is separate from our recent Classroom Giving Drive that directly benefits your teacher/classroom/grade level needs.
Our target is a BIG number, but with your support, our Grizzlies can achieve anything! Together, we are walking for a great cause!
---
AT A GLANCE. . .
Theme: Together, Grizzlies Are Out of This World! (a space odyssey)
Purpose: GHSC's Main Fundraiser Drive & Schoolwide Celebration Event
Theme Song: "Out of This World" TV Show theme song (from the 80s!)
Fundraising Drive Window: Wednesday September 21- Friday October 14
Walkathon School-Wide Event: Wednesday 10/12/22- all day!
8:45am- Morning assembly on the upper field, all grade levels
ALL DAY EXTRAVAGANZA of walking, play, treats, and more! 🎉
8:45-10am Assembly & walking
10:45- lunch/recess Additional walking/activities
Families are encouraged to volunteer, cheer, and walk with our Grizzlies!
Where: Guadalupe Upper Field
Goal: $65,000 raised school-wide
Goal Per Student: $100 raised to fully fund our supplemental curriculum and programs
Donation Collection Format: GHSC Online Toolkit- Individual Student Donation Pages https://ghsc.membershiptoolkit.com
---
HOW DOES IT WORK?
We are encouraging each student to set a fundraising goal of $100.  If every student is able to meet the challenge, we will have far surpassed our goal for the Walkathon this year!  
Students will ask people to "sponsor" them ahead of the event.  Sponsorship is a single donation and not based on laps or minutes walked. "Sponsors" are lovely folks who pledge money for your participation as a walker in the Grizzly Walkathon.
They may be friends, family, neighbors, and parents' co-workers or business associates. Please do not go door-to-door unless you have an adult with you.
Check with Employers for Employee Matching. (Please note donations made through your company will take 5-10 business days to update your student donation site. Company Matching amounts are not counted towards your students fundraising goal.)
100% of the donations will benefit Guadalupe students and because Guadalupe Home and School Club (GHSC) is a non-profit, all donations are tax deductible for your sponsors. Your donation confirmation email can be submitted to the IRS for tax purposes.
---
REMINDERS FOR DAY-OF WALKATHON EVENT:
Each student will receive a Grizzly Walkathon t-shirt to wear during our celebration!  Shirts will be handed out that morning and worn over clothing.
Have your child wear comfortable walking shoes.
Send a labeled water bottle with their name.
Everyone is welcome!
---
AWARDS & INCENTIVES
(Corporate Matching Amounts are not counted towards prizes)
Classroom Awards
We believe every student, faculty member, and parent is part of this awesome community. In an effort to promote the Grizzly Community and celebrate their fundraising efforts, each class will enjoy an allergy-friendly surprise treat on Walkathon Day!!
Grizzlies Are Out of This World T-Shirts
Each student will be given a commemorative Grizzly Walkathon shirt!
Cosmic Pizza Picnic with Mrs. Barocio!
Every student who raises a minimum of $175 will enjoy a pizza party with our amazing principal! (date tbd)
TOP FUNdraiser Prizes
Top Grade Levels Winners-

Each top fundraiser fromTK/ K, 1st, & 2nd will win an awesome Pedal Go Cart!
Each top fundraiser from 3rd, 4th, & 5th will win a rad Hoverboard!

The Top Overall fundraiser will receive 4 season passes to Great America!!
TIERED FUNdraiser Drawings
Each student who raises a minimum of $100 will receive at least 1 entry into our prize drawings!
| Minimum $ Raised | Entries into Prize Drawing |
| --- | --- |
| $100 | 1 |
| $150 | 2 |
| $200 | 3 |
| $250 | 4 |
| $300 | 5 |
Our Bodacious Prizes… (There will be 17 prize winners!!)
$25 Gift Cards to Jamba Juice (2) & YoPop (2)
$50 Gift Cards to Golf Land (2) & Target (2)
Mystery "Ultimate STEAM" Green Kid Craft Science Kit (5)
Instax Mini 11 Camera bundle (2)!!
Space-themed Squishmallows (2)!!
---
QUESTIONS??
If you have questions  please contact walkathon.ghsc@gmail.com 
(PLEASE DO NOT CONTACT THE FRONT OFFICE)
You can set up your fundraising page at http://ghsc.membershiptoolkit.com
The Guadalupe Home and School Club, the students, and teachers thank you for your support!