The Guadalupe Variety Show 2023 has ARRIVED!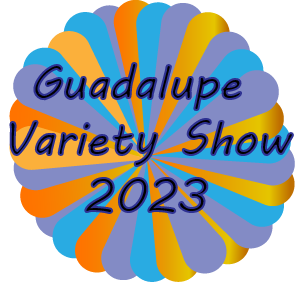 Join us LIVE ON STAGE
Thursday, February 16th
5:30PM Show
(Kinder/First/Second Grades)
Doors Open @ 5:10PM
7:30PM Show
(Third/Fourth/Fifth Grades)
Doors Open @ 7:10PM
Entry is FREE
Seating is First Come/First Seated
---
THERE IS A 30 ACTS MAX, IF YOUR APPLICATION IS #31 YOUR STUDENTS ACT WILL BE WAITLISTED. SOME ACTS DROP OUT EACH YEAR AND YOU WILL BE NOTIFIED WHEN THE WAITLIST OPENS UP.
Rehearsals: Wednesday, 2/15
During School Show Date: Friday, 2/17
Evening Shows: Thursday, 2/16
Location: Guadalupe Cafeteria
---
A VARIETY SHOW
Encourage your child to get creative!
Break outside of the stage and be SPECTACULAR!
Checkout Previous Show on the GHSC Youtube Channel.
---
WANT BE THE EMCEE?
5th Graders – apply to be the Emcee for the Variety Show! Spaces limited.
The EMCEE needs to complete the Variety Show Application on GHS ToolKit, when signups are live. Complete two applications if the Emcee plans to perform.
Emcee's should plan to attend all rehearsals and performances.
---
RULES
If there are 3 students in your act, you should have all 3 students complete and signed applications online by the deadline. If you are a solo act, you will submit one application, etc.
Once you have submitted your application, your act details should be considered final. Any changes will need to be approved.
Applications must be filled out by a parent or guardian. Most Important Information: Act Name, Act Type, Performer Name, Teacher, and Grade Level
Email address is needed to communicate show details, please provide a valid email address.
One act per student, unless approved.
All acts have a strict 2-minute time limit. Please respect this rule as it helps ensure that all students will have an opportunity to perform.
All act content and costumes must be school appropriate.
---
IMPORTANT DATES
Thursday, TBA: APPLICATIONS and ACT DETAILS DUE.

Details needed: Act name, Act Type, Performer Name, Teacher, and Grade Level
Max of 30 acts per show.
Late applications will not be accepted.
Sunday, TBA, final music and video files due. File types (Windows Compatible File Type – mp3/mp4/wav/etc).

Save on google drive, cut to 2 minutes or less, do not save uncut songs or videos.
Email varietyshow.ghsc@gmail.com with questions.
Read additional instructions on how to save here.
Wednesday, TBA Full Rehearsal for all performers. All acts MUST attend the rehearsal.
Thursday, TBA: Performances. Please note call time for all performers.
---
Check Out Last Year's Show
If you would like to check out the 2022 Variety Show head over to GHSC YOUTUBE CHANNEL
---
All questions can be sent to VARIETYSHOW.GHSC@GMAIL.COM