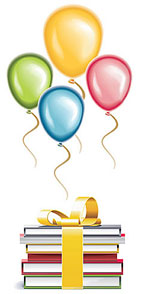 Birthday Book Club
Leave a piece of history behind by donating a book to the Guadalupe Library
To participate in the Birthday Book Club, please process donations through MySchoolAnywhere site.  Please include your student's full name in the online notes section. (All donations are tax-deductible.)
The Birthday Book Club is a year-round Guadalupe library fundraiser that allows us to keep a vibrant and up-to-date collection of books for our students.  Our school library does not receive the district funding required to meet our needs, so we depend on donations from this program to purchase our library materials.
Participation in the Birthday Book Club will be acknowledged by your child receiving a book during the week of their birthday.  This book will include a nameplate commemorating their special day and will be sent home in your child's 

Friday

 folder.  The book is to be enjoyed at home before becoming a permanent part of our library collection.
Every attempt is made to match the book to your child's interest while keeping in mind the needs of the library.
If your child's birthday is in July or August, they will likely receive their book in early September. Students with May or June birthdays will receive their book in late April.
Birthday books are checked out to students for two weeks and should be renewed or returned by the due date to avoid a late notice.
For more information or questions, please contact our Birthday Book Chairs, Denise Goodhart (goodhartd@unionsd.org) or Anh Clemens (anh.clemens@gmail.com).
SaveSave
SaveSave
SaveSave