IMPORTANT DATES: FEB. 2018
Tuesday, January 30, 2018 – Variety Show Applications Due // See HERE for details
Friday, February 2, 2018 – GHSC Newsletter Delivery // Check you Friday Folders or read online HERE to stay up to date
Wednesday, February 7, 2018 – GHSC Meeting // 7 – 8:30 pm in the staff lounge. ALL WELCOME!
Friday. February 9, 2018 – Gudalupe Variety Show // 5 – 7 pm in the cafeteria
Monday, February 12, 2018 – Union District School Board Meeting // Details HERE
Wednesday, February 14, 2018 – Happy Valentine's Day!
Friday, February 16, 2018 – Box Tops Contest Deadline // Details HERE
Monday, February 19, 2018 – Friday, February 23, 2018 – President's Week Break // NO SCHOOL
Monday, February 26, 2018  – GHSC Newsletter Submissions Due // Details HERE
Wednesday, February 28, 2018 – Yearbook Personalized Design Deadline // Details HERE
Reminders: We update our Facebook Group and Twitter with fun events and information so make sure to check it the out and you can always find all this information in case you forget on our GHSC calendar HERE. Thank you!
---
 CURRENT VOLUNTEER OPPORTUNITIES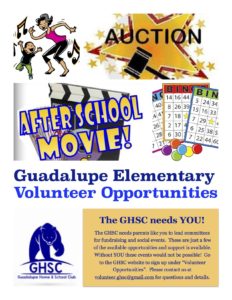 Looking for ways to get involved?
We have lots of fun opportunities available and your help is greatly appreciated. No experience necessary, just a smile!
---
IMPORTANT REMINDERS:
SaveSave
SaveSave
SaveSave
SaveSave
SaveSaveSaveSave
SaveSave
SaveSave
SaveSave
SaveSave
SaveSave
SaveSave
SaveSave
SaveSave
SaveSave
SaveSave
SaveSave
SaveSave
SaveSave
SaveSave
SaveSave
SaveSave
SaveSave
SaveSave
SaveSave
SaveSave
SaveSaveSaveSave
SaveSave
SaveSave
SaveSave
SaveSave