IMPORTANT DATES: MARCH 2018
Friday, March 2, 2018 – GHSC Newsletter Delivery // Check you Friday Folders or read online HERE to stay up to date
Thursday, March 8, 2018 – Friday, March 16, 2018 – Parent Teacher Conferences // Early release all week, see HERE for details
Monday, March 12, 2018 – Friday, March 16, 2018 – Teacher Appreciation Week // See your room parent for details
Monday, March 12, 2018 – Union District School Board Meeting // Details HERE
Monday, March 12th – Saturday, March 31st – Amazon is tripling the donation rate on your first smile.amazon.com purchase! Go to smile.amazon.com/ch/77-0336405 and Amazon donates to Guadalupe Home & School Club.
Wednesday, March 14, 2018 – Family Night aka No Homework Night
Wednesday, March 14, 2018 – CNO at BJ's Brewhouse San Jose // Check your Friday Folders for more details and the flyer
Thursday, March 15, 2018 – GHSC Spring Afterschool Movie // In the cafeteria from 1:30-3:30 pm, $15 includes movie – "COCO" – popcorn, snack and drink. Buy your tickets HERE.
Friday, March 23, 2018 – Professional Development Day // NO SCHOOL
Wednesday, March 28, 2018 – GHSC Meeting // 7 – 8:30 pm in the staff lounge. ALL WELCOME!
Reminders: We update our Facebook Group and Twitter with fun events and information so make sure to check it the out and you can always find all this information in case you forget on our GHSC calendar HERE. Thank you!
---
FOR A LIMITED TIME ONLY IN MARCH!!!
---
CURRENT VOLUNTEER OPPORTUNITIES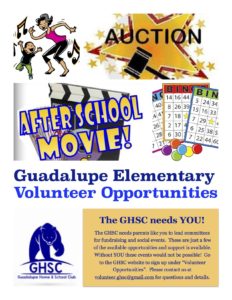 Looking for ways to get involved?
We have lots of fun opportunities available and your help is greatly appreciated. No experience necessary, just a smile!
---
IMPORTANT REMINDERS: (click for details)
SaveSave
SaveSave
SaveSave
SaveSave
SaveSaveSaveSave
SaveSave
SaveSave
SaveSave
SaveSave
SaveSave
SaveSave
SaveSave
SaveSave
SaveSave
SaveSave
SaveSave
SaveSave
SaveSave
SaveSave
SaveSave
SaveSave
SaveSave
SaveSave
SaveSave
SaveSave
SaveSaveSaveSave
SaveSave
SaveSave
SaveSave
SaveSave
SaveSave
SaveSave