IMPORTANT DATES: APRIL 2018
Monday, April 2, 2018 – GHSC Newsletter Submissions Due // Details HERE
Friday, April 6, 2018 – GHSC Newsletter Delivery // Check you Friday Folders or read online HERE to stay up to date
Monday, April 9, 2018 – Friday, April 13, 2018 – Spring Break // NO SCHOOL
Tuesday, April 17th, 2018 – Yearbook Order Deadline // Details on how to order can be found HERE
Friday, April 20, 2018 – Principal's Coffee & GHSC Meeting // 8:15 – 9:30 am in the staff lounge. ALL WELCOME!
Friday, April, 20, 2018 – School Kidz School Supply Kits Order Deadline // Details on how to order can be found HERE
Saturday, April 21, 2018 – GHSC Spring Carnival // Details can be found HERE
Monday, April 23, 2018 – Union District School Board Meeting // Details HERE
Monday, April, 23, 2018 – School Site Council Meeting // Details HERE
Tuesday, April 24, 2018 – Guadalupe STEAM Night //. Details HERE
Friday, April, 27, 2018 – Relay for Life Fundraiser // Details with location and times can be found HERE
Monday, April 30, 2018 – GHSC Nomination Form Due // Please fill out THIS FORM and deliver it to the front office, email it to vpprograms.ghsc@gmail.com OR take the online survey HERE: http://bit.ly/2GkQmWJ to help elect the 2018-2019 GHSC Board members. Thank you!!!
Monday, April 30, 2018 – GHSC Newsletter Submissions Due // Details HERE
Reminders: We update our Facebook Group with fun events and information so make sure to check it the out and you can always find all this information in case you forget on our GHSC calendar HERE. Thank you!
---
IMPORTANT REMINDERS: (click for details)
---
CURRENT VOLUNTEER OPPORTUNITIES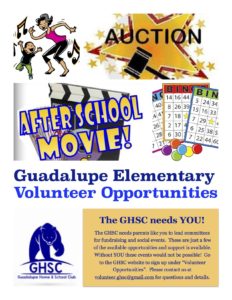 Looking for ways to get involved?
We have lots of fun opportunities available and your help is greatly appreciated. No experience necessary, just a smile!
SaveSave
SaveSave
SaveSave
SaveSave
SaveSaveSaveSave
SaveSave
SaveSave
SaveSave
SaveSave
SaveSave
SaveSave
SaveSave
SaveSave
SaveSave
SaveSave
SaveSave
SaveSave
SaveSave
SaveSave
SaveSave
SaveSave
SaveSave
SaveSave
SaveSave
SaveSave
SaveSaveSaveSave
SaveSave
SaveSave
SaveSave
SaveSave
SaveSave
SaveSave
SaveSave
SaveSaveSaveSave
SaveSave
SaveSave
SaveSaveSaveSave
SaveSave
SaveSave