The HOLIDAY CARD FUNDRAISER is back!
Both minted.com and Shutterfly.com are partnering with GHSC to give you a discount on your holiday card or gift order. Both companies are donating a portion of your order directly to GHSC for Guadalupe students! Feel free to share this discount info on SOCIAL MEDIA to help raise money.
This year, minted.com has increased their discount – giving you 20% off your order and ALSO donating 15% directly to GHSC! Use our discount code during checkout.
Discount code: FUNDRAISEGUADALUPE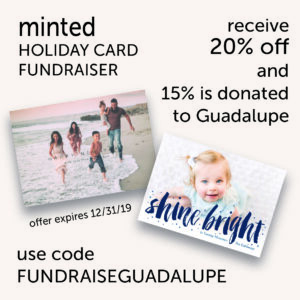 Shutterfly.com
Receive special discounts and earn money for GHSC at ghsc.shutterflystorefront.com. The shop is open year round!