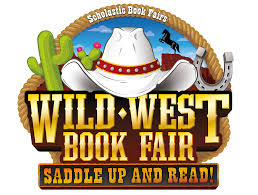 This fundraiser is surely one we can all get behind. The funds we raise at this event go to programs for our Guadalupe students THIS YEAR!
Last Fall, we exceeded our goal of $10,000, and brought in over $13,000! We can surely do it again this spring…with your help.
This 2017 Fall's theme is the Wild West! So, bust out those cowboy hats and boots and get ready for some reading!
Guadalupe's Fall 2017 Book Fair will take place Monday, December 4 – Friday, December 8, 2017!
This is a great time to stock up your children with new and exciting books at their reading levels AND do some holiday shopping all at the same time!
For grandparents and parents that want to participate but can't make it to the fair in person, the online book fair is at www.scholastic.com/bookfair. It's a wonderful way for all of us to contribute to making our students' lifelong readers and learners.
Don't forget that all teachers have baskets of books at the fair along the back wall that they are hoping you will buy and donate to their classrooms.
Lastly, but most importantly your Book Fair Team is always looking for volunteers to help make this the best Book Fair yet! We would love to have you! (Volunteer details HERE if you would like more information as to what to expect when volunteering.)
We can't wait to see you at the Book Fair. If you have any questions, please email Sue Robinson (sue.ghsc@gmail.com) or Sarah Prasad (secretary.ghsc@gmail.com)
SaveSave
SaveSaveSaveSave
SaveSaveSaveSave
SaveSave
SaveSave
SaveSave
SaveSave
SaveSave
SaveSave