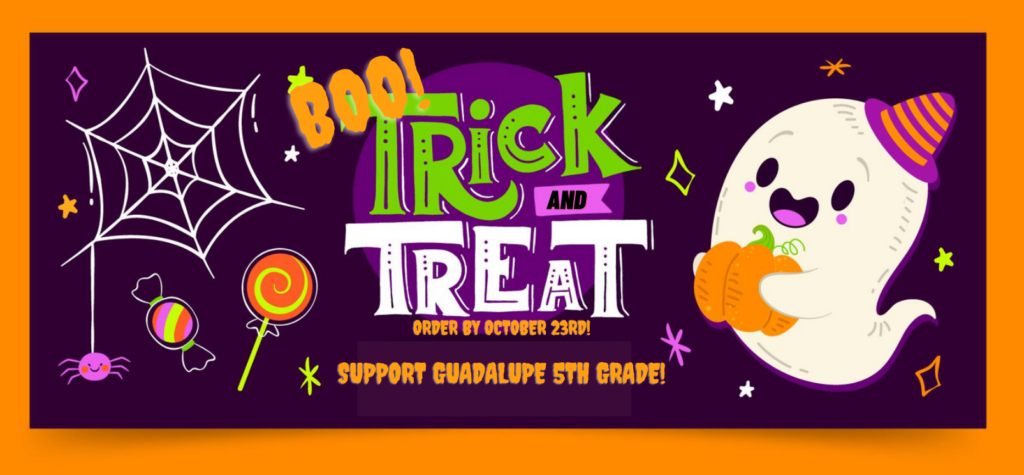 Order A BOO BAG of TREATS & Support 5th Grade Science Campers
Every year, 5th graders pack their bags and spend a week at Walden West Science Camp. The Boo Bag of Treats fundraiser benefits families that would like to fundraise for their Science Camp fee. Students will be reaching out to friends, family, and neighbors to fundraise.
This year our 5th Grade Fundraising team is selling BOO BAG of TREATS to be delivered to someone special. Starting October 1st and through October 23rd, BOO BAG TREATS can be ordered, and our fundraising team will take care of the delivery.
CHOOSE A 5th GRADER to SUPPORT
When you add a BOO BAG of TREATS to your shopping cart, choose a student's name from the drop-down list to support them. If you wish to spread your donation to all the students participating, choose the DONATE ALL option, located at the top of the drop-down.
BOO BAG of TREATS OPTIONS
There are two BOO BAG of TREAT options. Contents of the bags may vary.
DELIVERY ZIP CODES ARE LIMITED
Below is a list of all the zip codes that we can delivery your BOO BAG of TREATS. If the zip code you would like to send a BOO BAG of TREATS is not listed, but located in the South Bay, please send us an email to (fundraising.ghsc@gmail.com)see if we can cover that zip code
| | | | | | |
| --- | --- | --- | --- | --- | --- |
| 95008 | 95030 | 95032 | 95037 | 95070 | 95111 |
| 95118 | 95119 | 95120 | 95124 | 95125 | 95130 |
| | | 95136 | 95139 | | |
DEADLINE for ORDERS is October 23rd
Bags will be delivered by volunteers. A complete address must be provided before delivery. Please no secure/locked entry apartment buildings and volunteers cannot enter a residence to deliver a bag.